Essential Chords in Open D Tuning - ebook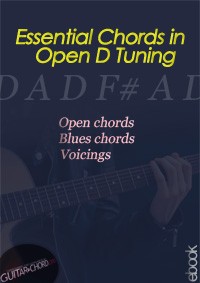 The Essential Chords in Open D Tuning ebook includes over 300 chords with diagrams for the Open D tuning.

Get it for $5

Print-friendly ebook with charts of chords in open positions, blues chords, blues shuffle chords and a large variety of voicings.

Notice that this is an ebook, not a physical book. The ebook can be downloaded directly after the purchase.
Content:
Open D Tuning general tips
Most essential Open D Tuning chords
Open position chords
One-finger slide chords
Movable chords
Blues chords
Blues shuffle chords
Voicings
Chord progressions
Tabs - harmonization in Open D
Theory
Fretboard neck graphics
Included:
Digital poster (see screenshot below)
Extra material:
DADEAD ("Dsus2") Tuning chord chart
D Major 7th Tuning chord chart
High resolution and print-friendly
Open D Tuning
Open D tuning is a useful option for slide guitar and it was used by one of the greatest slide guitarists of all, Elmore James. But most of all, Open D is a tool for finding new expression on the guitar in any manner. Some famous song written in this tuning are "Chelsea Morning" and "Big Yellow Taxi" by Joni Mitchell and "Norwegian Wood" by The Beatles.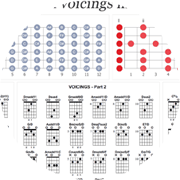 Digital poster with chord charts and fretboard graphics can be downloaded (see link in the ebook).

The digital poster only includes a selection of the chord diagrams presented in the ebook.

The ebook gives also access to downloadable material for related alternate tunings such as the Dmaj7th tuning utilized by artist such as Neil Young.
Questions about Essential Chords in Open D Tuning ebook?
If you have any questions regarding this ebook, you can send an email to info@guitar-chord.org