The Guitar Exercises ebook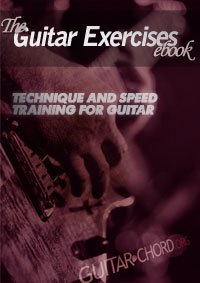 The Guitar Exercises ebook is loaded with exercises made to improve technique and speed for beginners and intermediate players.

Get it for $4
Visa, MasterCard, Eurocard, Maestro, American Express and PayPal are all accepted payment options. Secure payment service by Payhip / Paypal.

Tabs (and in some cases also standard notation to better display note patterns) for guitar in a print-friendly ebook. An extended edition was pusblished in 2023.

Notice: this is an ebook, not a physical book. The ebook can be downloaded directly after the purchase.
Content:
Chromatic exercises
Diagonal patterns
Diagonal patterns with string-skipping
Finger stretching exercises
Pentatonic scale exercises
Major scale exercises
Minor scale exercises

Hammer-on exercises
Pull-off exercises
Hammer-on & pull-offs drills
Spider exercises
Fretting hand flexibility
Plectrum exercises
One string melodic exercises
Chords with stretches
Chords with movements

Develop as a lead guitarist
There are many ways to become a better guitar player and the technique is a fundamental component in the progression. In the quest for being able to play efficiently and sometimes fast without stumble along the fretboard you are rewarded by practice the details. Exercises will make your playing more fluent and improve your tone as well.
Questions about The Guitar Exercises ebook?
If you have any questions regarding this ebook, you can send an email to info@guitar-chord.org