Essential Chords in Open D Tuning - ebook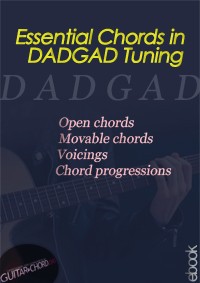 The Essential Chords in DADGAD Tuning ebook includes over 300 chords with diagrams for the Open D tuning.

Get it for $5

Print-friendly ebook (in total 24 pages) with charts of chords in open positions, movable chords, a large variety of voicings and progressions.

Notice that this is an ebook, not a physical book. The ebook can be downloaded directly after the purchase.
Content:
DADGAD Tuning general tips
Most essential DADGAD Tuning chords
Open position chords
Movable chords
Voicings
Chord progressions
Tabs

High resolution and print-friendly chord charts

Chord progressions (illustrated with chord charts)

Questions about Essential Chords in DADGAD Tuning ebook?
If you have any questions regarding this ebook, you can send an email to info@guitar-chord.org