The Chord Reference ebook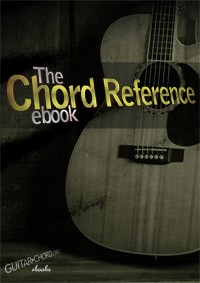 The Chord Reference ebook includes over 800 chords, grouped after root letter – all keys are covered. Print-friendly ebook with charts of chords in main versions to use as reference.

Get it for $6
Visa, MasterCard, Eurocard, Maestro, American Express and PayPal are all accepted payment options. Secure payment service by Payhip / Paypal.

Notice: this is an ebook, not a physical book. The ebook can be downloaded directly after the purchase.
Comprehensive chords overview with 800+ diagrams
This ebook gives you an extensive overview over guitar chords: more than 800 chord diagrams in total, covering all 17 keys / notes (C, C#, Db, D, D#, Eb and so on), and include inversions and slash chords.

The presented chords are divided in section based on root notes and subsequently divided into chord families according to:
Major triads
Dominant 7th
Major 7th
5th (power chords)
Various common extended chord types such as 6th, 9th, 11th and 13th
Suspended chords
Added chords
Minor triads
Minor 7th and other extended minor chord types such as minor 6th, 9th, 11th and 13th
Diminished chords including half-diminished (Ø)
Augmented chords
Altered chords
The most common chords are presented in several versions including both open and barre chord shapes. Fingering suggestions are given for all chords. In addition, chord progressions examples can be found, illustrated with diagrams.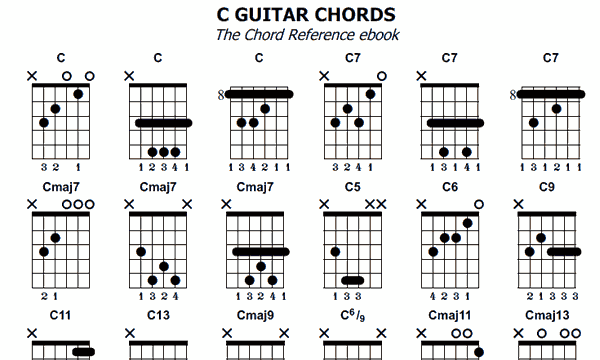 High resolution and print-friendly


Chord progressions examples (illustrated with chord frames)
Questions about The Chord Reference ebook?
The 2nd edition of The Chord Reference ebook was published in 2022. The content is only available in ebook format (pdf). If you have any questions regarding this ebook, you can send an email to info@guitar-chord.org