EADGBD tuning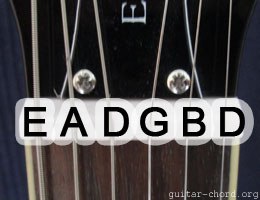 The EADGBD tuning is not very common, but is an interest alternative for finding new chord possibilities.

This tuning could also be used by a beginner since many chords that normally involves three fingers only needs two. The F major could also be played without bar strings.

As already told in the name, to get this alternate tuning you should tune your guitar like this: E A D G B D. The re-tuning only involves one change, which is the highest (thinnest string).
More info

Including an octave perspective, the tuning is written E2-A2-D3-G3-B3-D4, meaning that the lowest string is an E note on the second octave, the second lowest string is a A note on the second octave and so on. Standard tuning reference: E2-A2-D3-G3-B3-E4.
Open chords
Comments
If you prefer an easier shape for Bm7, it's also possible to play the chord as X20200 (which will omit the fifth). The same thing with Bm7, you could instead play X20220.

There are also in many cases many alternatives for G chords in open positions. G7, for example, can also be played as 323000.
More chords in EADGBD tuning
Other chords in this tuning:
D5: XX0230
D7: XX0214
D9/E: 000214
Dsus2: XX0232
Cmaj9: 032000
G6: 320002
G9: 303000
Bm/F#: XX4400
This was an introduction to chords in the alternate EADGBD tuning, see also standard tuning.