D Standard tuning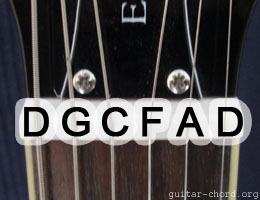 The D Standard tuning is every string is tuned one whole step down.

One of the reasons to use this tuning instead of the E Standard tuning, is that the tension is reduced and that may be mor comfortable for the fingers. It's also common use for 12- stringed guitar since is can avoid string breakage.

Here is how you tune the guitar: DGCFAD. Obviously, you don't have to re-learn the chord you know from standard tuning, but to visualize it for you, some chords have been gathered and presented in diagrams below.
Major chords
Minor chords
Dominant 7 chords
Comments
If you miss a specific chord, you're welcome to suggest additions via info@guitar-chord.org.