Lessons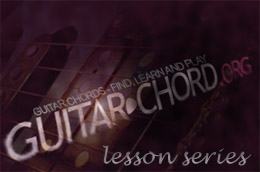 Lesson series overview. Choose from levels of difficulties or sorted by style.

The lessons if based on progressions and supplementary music tracks. In the backing tracks, the guitar parts are removed for you to practice with the enjoyment of an authentic musical experience.
Levels
Style
Rock
More categories
Guide for using the lessons with sounds
All lessons are based on a chord progression and a backing track that match the chords with the relevant guitar part removed. You start the music and the synchronized chord changes animation by clicking on the "Start music / chord changes" button:


The progression for the actual lesson is show with grey background. Vertical dividers indicating the bars (or measures). For example, the image below shows a progression with four bars. Below the progression, information is given concerning how many times the progression is repeated, the beats per minute and the time signature (e.g., 4/4 indicating four beats per measure):
Get the most of out the lessons
The chord changes in these lessons are visible as you play, but try to only look when absolutely needed. It's great skill to know how to change chord by listen to the beats and follow the tempo.

Another important skill to develop is to play mostly without looking on what your hands are doing. Practice to play through the progressions blindfolded after you can play when effortlessly with your eyes on the fretboard.