Illustrated Chord Progression ebook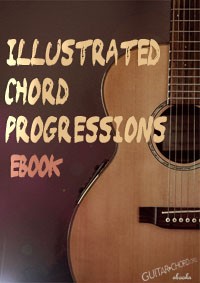 The Illustrated Chord progression ebook 3rd edition includes around 200 chord progressions with all chords illustrated with diagrams. You also get access to audio examples.

Get it for $5
Visa, MasterCard, Eurocard, Maestro, American Express and PayPal are all accepted payment options. Secure payment service by Payhip / Paypal.

Download preview

Learn new guitar progressions and chords. All progressions are presented with charts for easier playing and better memorization.

Notice that this is an ebook, not a physical book. It can be downloaded directly after the purchase.
Content:
• Progressions in major and minor keys
• Progressions based on concepts such as guide finger, passing chords, bass lines, movable chords, alternate fingerings, extended chords.
• Progressions including embellishment and melody
• Progressions based on genres such as blues, bossa, country, folk, jazz, latin, reggae and rock
• Progressions in song context with verse and chorus
What you get:
200+ chord progressions
Chord diagrams for all chords
Audio examples (online access)
An comfortable way to expand your guitar skills
The purpose with this ebook is to serve you a variety of chord progressions for guitar illustrated with chord diagrams. This can give you insights of how chord progressions are created and the diagrams makes it easier to play if you don't are familiar with the chords.

The presented chord progressions can be executed with strumming, picking, or a combination of the two. They can be seen as whole units as well as building blocks for songs.

The Illustrated Chord progression ebook are perfect if you search for new progressions with limited knowledge of fingerings. All chords have visible charts and you can play the progressions in an instant.

The selection of progressions are carefully constructed to mix standard progressions and teach various concepts plus give authentical feel for different styles.
Questions about Illustrated Chord progression ebook?
If you have any questions regarding this ebook, you can send an email to info@guitar-chord.org