The Chord Chart ebook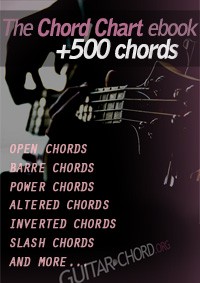 The Chord Chart ebook includes over 500 chords. A complete collection of chords for guitarists, with fingerings marked out when needed.

Get it for $5
Visa, MasterCard, Eurocard, Maestro, American Express and PayPal are all accepted payment options. Secure payment service by Payhip / Paypal.

Print-friendly ebook with charts of chords in open positions, barre chords, power chords, altered chords, slash chords and more categories.

Notice: this is an ebook, not a physical book. The ebook can be downloaded directly after the purchase.
Content:
Most essential chords
Chords in open position
Barre chords
Power chords
Extended chords
Altered chords
Inversions and slash chords
Diminished chords
Alternative shapes
Alternative fingerings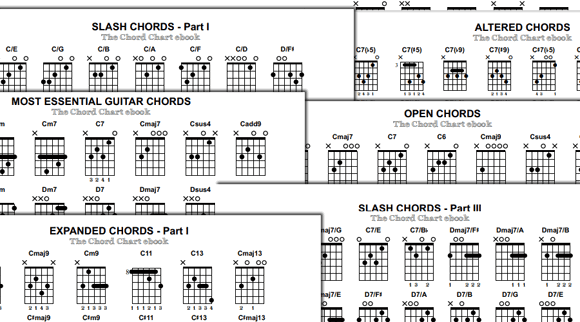 High resolution and print-friendly
Extensive overview over guitar chords
The presented chords in this ebook are divided in chord families and in most cases sorted by root notes.

Standard abbreviations are used for chords names and symbols are avoided since they are generally less known. Therefore, "maj" is used for major and not a triangle, "dim" is used for diminished and not a degree symbol and so on.

There are many ways to play a specific chord on the guitar. A regular major or minor chord includes only three notes and these notes can be found on several positions on the guitar's fretboard. The chords in this collection have been selected with the idea of presenting the most standard versions and shapes without any unnecessary stretches or unnatural fingerings (there are, however, a section with "exotic open chords" and sections with alternate shapes plus fingerings).
Questions about The Chord Chart ebook?
If you have any questions regarding this ebook, you can send an email to info@guitar-chord.org