The Capo Chart ebook
The Capo Chart ebook includes over 400 chord diagrams with a capo on fret 1-9 plus partial capo chords and other capo configurations.

Get it for $5
Visa, MasterCard, Eurocard, Maestro, American Express and PayPal are all accepted payment options. Secure payment service by Payhip / Paypal.

Print-friendly ebook with charts of the most important chords for different capo positions.

Notice: this is an ebook, not a physical book. The ebook can be downloaded directly after the purchase.
Content:
Introduction
PART I
Transposition chart
Capo 1
Capo 2
Capo 3
Capo 4
Capo 5
Capo 6
Capo 7
Capo 8
Capo 9
PART II
Capo with open high E string
Capo with open low E string
Partial capo
APPENDIX
Chord progressions of songs
Emulated tunings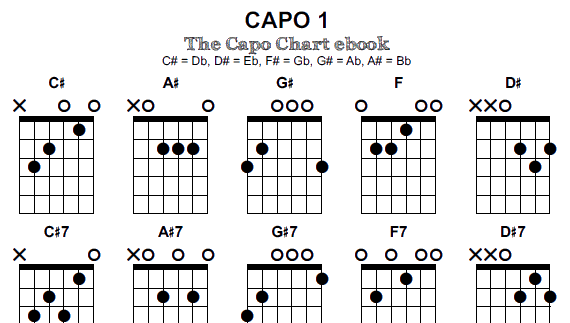 High resolution and print-friendly
Extensive guide to playing guitar with a capo
The content in this ebook is made up of two parts plus an appendix part.
The first part focus on capo as a transposition tool (changing keys).
The second part focus on capo as an experimental tool with emulating tuning.
In the appendix part, there are additional content as chord progressions in various capo position and an overview over emulated tunings resulting from various capo positions.
Questions about The Capo Chart ebook?
If you have any questions regarding this ebook, send an email to info@guitar-chord.org