The Barre Chord Chart ebook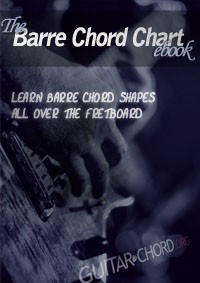 The Barre Chord Chart ebook includes facts and tips about barre chords and primarily diagrams of shapes, chord plus progressions.

Get it for $4
Visa, MasterCard, Eurocard, Maestro, American Express and PayPal are all accepted payment options. Secure payment service by Payhip / Paypal.

Print-friendly ebook with charts of the most important barre chords and shapes.

Notice: this is an ebook, not a physical book. The ebook can be downloaded directly after the purchase.
Content:
Get to know barre chords
Barre chord shapes
Barre chord practice
Most essential barre chords
Barre chords by root
Slash chords
Chord progressions
What you get:
Barre chord theory
Tips for learning barre chords
25 barre chord shapes
200+ chord diagrams
10+ chord progression ideas

High resolution and print-friendly
Questions about The Barre Chord Chart ebook?
If you have any questions regarding this ebook, send an email to info@guitar-chord.org